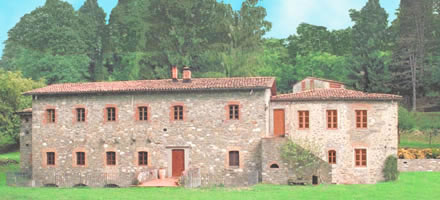 The farm today

The farmhouse "Al Molino della Luna" was set-up in 2002 when the owners brought the land in their possession (roughly 35.000 square metres) under cultivation again. The buildings which today host the holiday cottages were restored only afterwards. According to the agricultural practices of the surrounding area, the farmland cultivation is quite varied. There is a greenhouse for growing vegetables, a small nursery for ornamental plants and various fruit trees (cherry trees, apple trees, peach-trees, fig-trees, pear trees etc.). The landscape diversity which results from the above described agricultural practices as well from the particular location of the farmhouse suggested to the owner the idea of starting beekeeping for honey production. The buildings which today host the holiday cottages ("The stable", "The barn" and "The hut") were restored according to the local architectural style.

In the course of the restoration activities the original architectural structure was thus preserved or, if necessary, restored. This was also made possible by using any material recovered from the old farm buildings or from other buildings in the surroundings. Therefore stone, brick and any other material used for covering the buildings match perfectly with the surrounding landscape and with the traditionalbuilding style of the area. The various sculptures which are to be seen in the property belong to Maestro Oliviano, father of the owner.
The farmhouse is run by the owner Luna Lunardi with the help of her husband Mario Barbi and, when it is possible, of her sons Daniel and Thomas.